A few months ago I spotted these Cereal-on-the-Go containers from
The Container Store
featured in
Real Simple's problem solving products
.
I've always enjoyed browsing through the website, but I had never visited a location or bought from The Container Store before. I convinced Josh to let me try out some of these, as well as a few other problem-solving storage solutions, and received them several weeks ago!
I love the
Cereal-on-the-Go
containers. The bottom half has an outer jelly-like layer that you put in the freezer and keeps your milk cold. The top holds the cereal as well as a spoon. The spoon isn't the sturdiest of utensils, but it gets the job done, and personally the amounts of cereal + milk are perfect for me. You can also use this for granola + yogurt, or any other kind of combination you can think of that might need to be kept cool. It only leaked on me once, and I'm pretty sure it was my fault for not screwing it on tight enough.
I also found and purchased (2 of) these 26 oz
Salad Blaster
bowls. I've used them a lot and have had no problems with leaking. I find the size to be perfect for my lunches!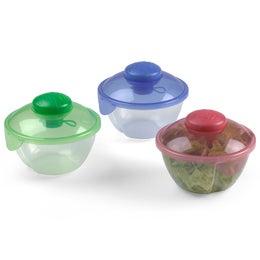 Lastly I bought these little
snack containers
that I haven't used yet. They seem like they would be good for kids and packing nuts, pretzels, goldfish, etc. - which I don't often pack.
Anyway! Those are some fun finds I've found and purchased lately! Anyone else have fun finds from The Container Store or food/lunch packing containers from somewhere else?